La Mirada Outdoor Signs
View Outdoor Sign Gallery
Outdoor signs are the best way a company or business can use to get people into their facilities. However, they must be designed perfectly to suit your business strategy, or else they will only be a poor investment for your brand.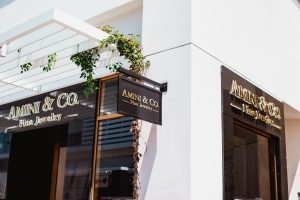 Superior Signs and Graphics is an La Mirada, CA sign company that caters to any business in need of personalized and impactful outdoor signs. Our team is confident that your sign needs are met and will pass key sign guidelines for your location when we design and make your outdoor signs for you.
We also guarantee that everything will be consistent with your brand and help produce results easily. Let our team know what you need, and we'll be with you to make every step easy to understand!
Call Superior Signs and Graphics at (626) 263-6133 for your Free Consultation!
Storefront & Building Signs

It is important that you get people to come into your store and provide them with the information they need to know about your offerings even before they enter your premises. In order to do this, you need to have the best storefront or building signs installed in key areas of your location.
We offer a variety of storefront and building signs for clients to pick from, and we can customize them to suit their needs. We will discuss every detail about your business so that we can recommend the best designs or styles for you to consider and make the signs you approve a reality.
We also make it a point to consider your competition, location, and consumer trends when designing your signage. This ensures that the signs we make will stand out wherever they are installed and get people coming into your business regularly.
Channel Letters & Dimensional Letters
Channel and dimensional letters are the most flexible outdoor signs that any industry can use. These signs offer a sleek finish that would catch anyone's attention. For these signs, you can get additional numbers, letters, and images to match the facade and your business targets.
We can customize your channel or dimensional letters, ensuring that they match your branding. We also provide recommendations so that your signs are very visible and easy to read as they pass by the shop or store. They can even be lighted.
These La Mirada outdoor signs are suitable for any business because they are very flexible can be customized to suit your needs perfectly.
Lighted Signs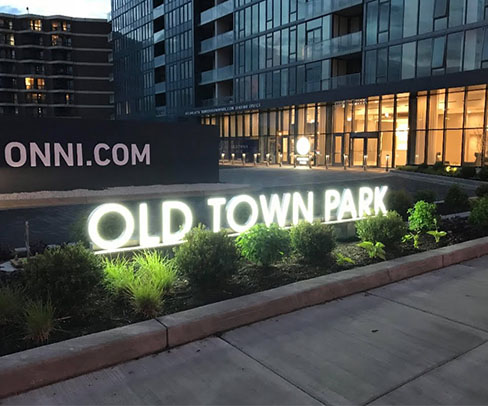 If your business is open during later hours or you want your customers to see your brand even at night, you should have lighted signs in your storefront. As the name suggests, these signs are illuminated so that people can see them during the evenings or if there is poor weather.
We have various options if you want lighted signs for your business, such as cabinet signs, illuminated signs, and digital displays. We can also do retro LED signs if you want something traditional but don't want them to cost a lot of money to run and maintain. LED signs can copy the effect of neon signs but use only less electricity to operate.
These lighted signs are perfect for theaters, bars, clubs, restaurants, retail businesses with late hours, gas stations, and convenience stores.
Custom Sign Panels
For businesses that require a great way to showcase their services to the public, getting custom sign panels is a cost-effective way to go. These sign panels can be made in a variety of materials and can have any amount of information you may want people to know about your business. They can also use full images that showcase what is on offer at your business.
Usually, custom sign panels are made from cut vinyl, which is then added to a metal plate or a lightbox to give it an extra element. We can sit down with you to see which styles are favorable for your business and craft them according to your requirements.
Small businesses, service centers, and businesses in need of functional signs can benefit greatly from custom sign panels.
Canopy & Awning Signs
Canopy and awning signs are ideal for businesses who want a great way to showcase their brand while providing an extra service to consumers.
With canopy and awning signs, you can showcase your brand through the stretched canvas, which would then create an overhang where clients can look into your shop from the outside and not have to worry about the elements. You can add your business information or your business message to the canopy or awning to increase its function.
Canopy and awning signs are often seen in boutiques, hotels, specialty shops, hotels and shopping centers, and businesses that require uniform outdoor displays.
Monument Signs
Want something permanent to indicate to your guests where you are located and showcase your brand head-on? Why not consider monument signs for the job? These signs are made from very durable material that lends gravitas to your business. They can display your company name and details, which people may want to note if they want to request your services.
When we make monument signs, we can add other features to help them stand out, including message boards or 24/7 lighting. We can also adopt the monument's design to match your ideas perfectly.
Monument signs are often used by corporate offices, government buildings, schools, churches, resorts, and other major businesses with large complexes.
Pole Signs & Pylon Signs
Want people to know where your business is located even if they are a mile away? Pole and pylon signs are the best way to do this.
As their name implies, these signs are very tall and often target a larger audience by businesses who do not have any clear storefront or located near major highways. When you request these signs, they will come in various display options and sizes to tailor to your business needs.
Pole and pylon signs are often used by shopping centers, fast food chains, gas stations, and other businesses that don't have any storefront near the road.
Complete Exterior Signage Provider
If a business wishes to get people to check out their offerings, they must have outdoor signs installed on or near their location. These signs will help with brand visibility and to lure customer interest, especially if it is designed perfectly to match the business.
Superior Signs and Graphics understands the impact these signs can make for your business, which is why we take our time in understanding what your business is like and what your business goals are to design the perfect outdoor signs for your needs.
Here are examples of our outdoor sign portfolio:
Want to request more types of signs from our La Mirada outdoor signs company? We also handle indoor and custom signs by request to keep your signs cohesive with one another and with your branding. Our experts are ready to help you through the process and make your ideas a reality.
Full-Service Exterior Sign Company
Superior Signs and Graphics has an extensive outdoor sign selection customized to fit any business that requests them. Customers are 100% involved in the sign-making process to ensure that their exterior signs are the ones they want before they are installed at their location. If you have an existing design for us to use, we can utilize it to your new exterior sign or update it to match your business's new goals.
If you don't have a design in mind, you don't have to worry. Our team can convert your ideas and combine them with the existing sign guidelines in the area to achieve a design that matches your brand and your exterior sign option. We can create any type of outdoor sign imaginable, including custom signs which will match your vision for your brand.
We don't just do designs in-house; we also manufacture our signs in-house to keep costs low and guarantee high-quality signs. Your sign is checked constantly to see if the design is printed accurately on the sign material and all the installation parts are included to get it securely fastened to its intended location.
We have a professional team of installers ready to bring your exterior signs to your location and efficiently install them without causing a lot of mess. We also help with maintenance work so that your signs continue to assist your business for the long run.
Free Outdoor Sign Consultation
For the best La Mirada outdoor signs, Superior Signs and Graphics's very dedicated team will not disappoint. The team will take every key detail about your business into account before we design the outdoor signs that will catch your market's attention, as well as improve your brand's visibility.
Let our team show you what options are available and guide you through the sign-making process.
Call Superior Signs and Graphics at (626) 263-6133 for your Free Consultation!